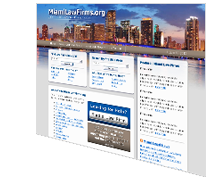 GlobalLawFirms.org is the geographic hub for the leading worldwide network of law firm websites.  The GlobalLawFirms.org network covers most major metro cities throughout the world.
If you need an attorney or law firm to represent you in regard to any legal issue – anywhere in the world, GlobalLawFirms.org is your starting point. Our attorneys handle all types of legal matters including:
Corporate and Commercial Law
Plaintiff and Consumer Law

Commercial Litigation
Business Formation
Mergers & Acquisitions
Real Estate Transactions
Commercial Litigation
Insurance Defense
More…

Personal Injury Claims
Medical Malpractice Litigation
Defective Product Claims
Divorce and Family Law
Bankruptcy
Criminal Defense
More…
---
GlobalLawFirms.org network is committed to charitable organizations that support people in need, as well as organizations that protect animals and the environment. 10% of our profits are donated to charitable causes. Click here to learn more.
GlobalLawFirms.org is part of the "AndJusticeForAll.com™" network of websites.
---